Please don't be too freaked out when we get it right.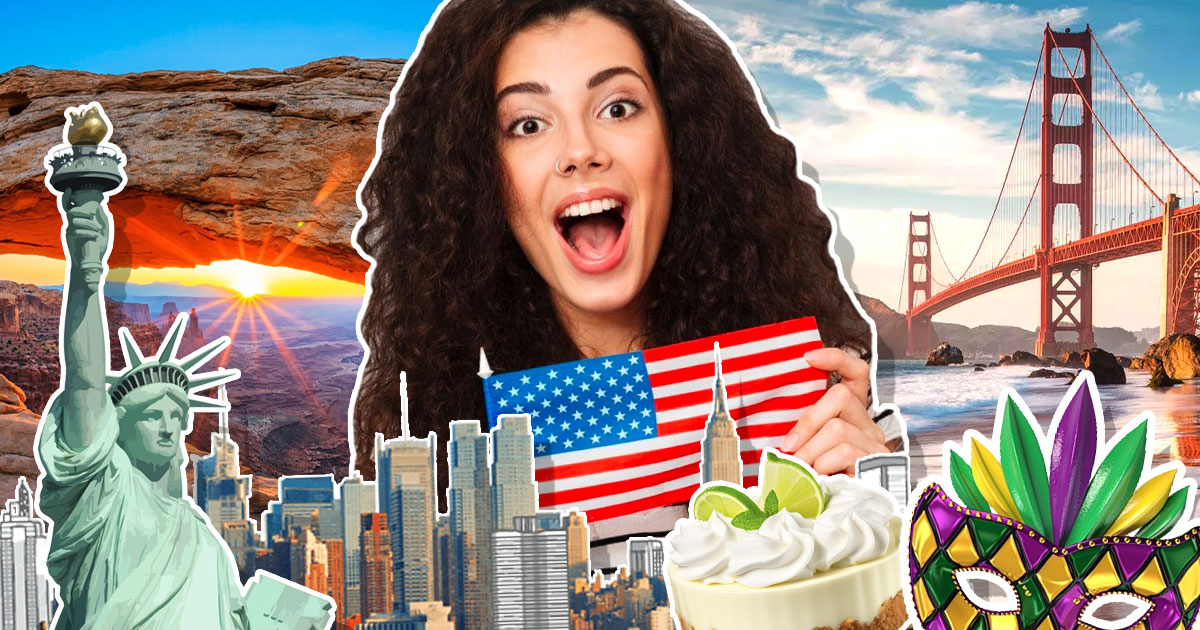 Save your scores! Log in before you play.
Get the Ad-Free Experience
Is Quizly fun for you? Support us by getting a Premium subscription.
Get Premium
Which U.S. Region Are You From?
Embark on an exciting exploration of your personality with our engaging quiz. This quiz is your passport to understanding which corner of this incredible nation resonates with your personality. We promise not only fun but also a deeper understanding of the diverse cultural tapestry that makes up the United States.
Let's dive into the heart of each region, discovering what sets them apart and how you might just resonate with one in particular.
The Diversity of U.S. Regions
The United States is a melting pot of cultures, each region contributing its own flavor to the national identity. From the bustling cities of the Northeast to the laid-back charm of the Central heartland, there's a world to discover.
Northeast: Where Sophistication Meets History 🎓
If you find yourself drawn to intellectual pursuits, appreciate cultural diversity, and revel in the vibrancy of city life, you might just be a Northeasterner at heart. The Northeast, encompassing states like New York and Massachusetts, is a haven for history buffs and culture enthusiasts alike. Our quiz will delve into your preferences, revealing whether you're a true Northeasterner thriving in the city's energy.
Midwest: The Down-to-Earth Charm 🌽
Known as the heartland of America, the Midwest is where friendly faces, warm smiles, and down-to-earth attitudes reign supreme. If you're a fan of tailgates, sports jerseys, and comforting mac 'n' cheese, the Midwest might be calling your name. Discover if you're the heartbeat of the heartland with our quiz.
South: Y'all, Welcome to Southern Hospitality 🌞
The South, with its warm hospitality, easygoing vibes, and penchant for celebrations, is a cultural gem. From the sandy beaches of Florida to the lively streets of New Orleans, the Southern spirit is contagious. Take our quiz to find out if you're a true Southerner, ready to bring sunshine wherever you go.
West: Adventure on the West Coast 🌄
Are you drawn to the breathtaking beauty of the great outdoors, from majestic mountains to the sun-kissed beaches? If so, you might be a West Coaster at heart. Whether you're hiking in the Rockies or catching waves in California, the West's free-spirited lifestyle might just be your calling. Take our quiz and unlock the mysteries of your adventurous soul.
Central: Laid-Back Bliss in the Heartland 🏞️
Central United States, with its sprawling landscapes and laid-back charm, is home to those who value family, community, and the simple joys of life. If your ideal weekend involves a barbecue with loved ones, camping under the stars, and the soothing tunes of folk music, you might just be the heart and soul of the Central region. Find out with our quiz!
Which U.S. Region Do You Call Home?
Ready to embark on this thrilling journey of self-discovery? Our quiz isn't just a game; it's a chance to explore the rich cultural tapestry of the United States. With each question, you'll inch closer to uncovering the U.S. region that aligns perfectly with your personality.
Quiz Highlights:
Tailored Questions: Our quiz is crafted to understand your preferences, ensuring accurate results.
Interactive and User-Friendly Design: Our quiz provides a visually appealing and user-friendly experience. Dive into each question with enthusiasm as you navigate through the vibrant regions of the U.S. The interactive design ensures an engaging and enjoyable experience from start to finish.
Fun and Insightful Self-Discovery: This quiz isn't just a game; it's a window into your soul. Discovering your U.S. region personality is an enlightening journey, filled with fun questions and thought-provoking scenarios. Unearth the characteristics that make you uniquely you, all while enjoying the quiz game dynamics.
Comprehensive Results: Receive detailed insights into your personality and how it aligns with the various regions of USA.
Shareable Results: Challenge your friends and family to take the quiz and compare results. Who knows, you might find your U.S. soulmates!
Ready to Begin?
Are you excited to embark on this quest to uncover which U.S. region mirrors your personality? Dive into the quiz now and let the adventure unfold! Whether you're a quiz aficionado or a first-timer, our quiz promises an entertaining and insightful experience.