Are you more like Eleven or one of the boys?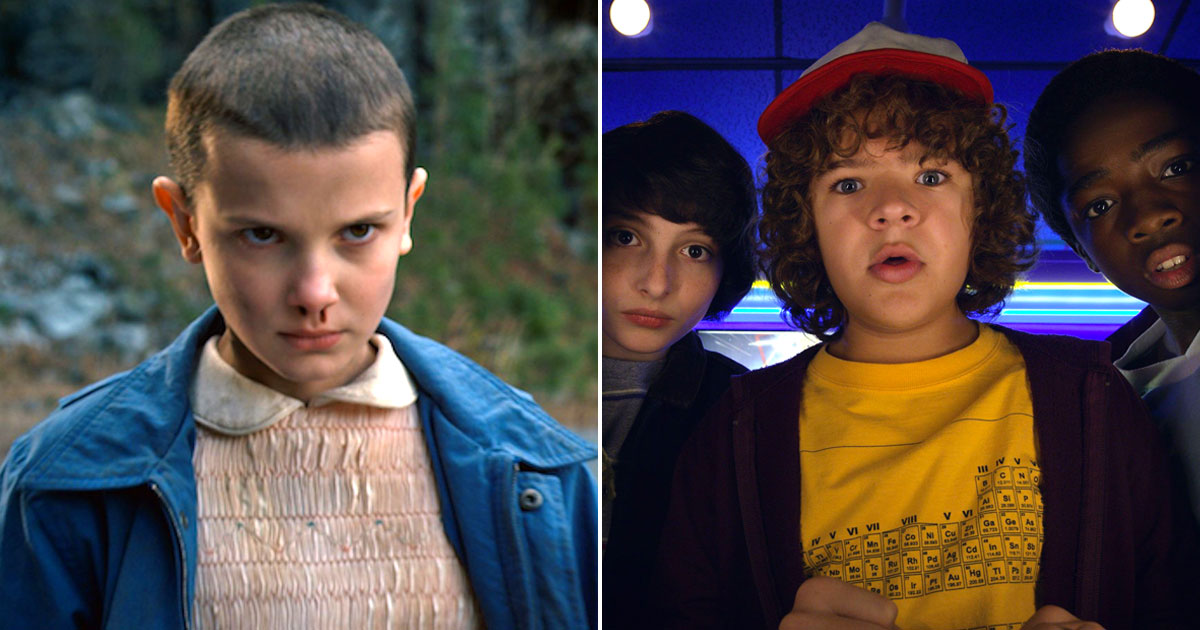 Save your scores! Log in before you play.
Get the Ad-Free Experience
Is Quizly fun for you? Support us by getting a Premium subscription.
Get Premium
Which Stranger Things Character Are You?
Do you ever find yourself longing for the supernatural mysteries of the 80s? Maybe you secretly hope that you have telekinetic powers, or you just can't resist the allure of Eleven's iconic buzz cut. If you've ever wondered which character from the hit Netflix series "Stranger Things" you're most like, you're in for a thrilling ride into the Upside Down world of Hawkins, Indiana.
Which Stranger Things character are you most like? Take our quiz and find out which character from the popular show matches your personality. The award-winning cast of Stranger Things captured the hearts of those who grew up in the '80s and even those who did not when the show first hit Netflix. It's got everything: mystery, drama, comedy, romance, monsters, With a third season in 2019, fans of the universally-loved franchise will get to flock to their screens to binge watch the compelling show.
Part of the reason why this sci-fi horror show is so popular is its assortment of strong characters whom the audience can relate to. In fact, there is quite likely a Stranger Things character whom you share a personality with. Maybe you are very much like one of the boys or perhaps you are more like the show's superhero Eleven.
Stranger Things: A Sci-Fi Nostalgia Trip
Before we dive headfirst into the quirky, eerie realm of Hawkins, let's take a moment to appreciate the show that's captured the hearts and minds of millions. "Stranger Things" is a cultural phenomenon that transports us back to the 1980s, a time when mullets were in style, Walkie-Talkies were the original text messages, and Dungeons & Dragons ruled the afternoons. It's the perfect blend of sci-fi, horror, and heartwarming friendships, with a dash of government conspiracy for good measure. The show's charm lies not only in its supernatural elements but also in its richly developed characters, each with their own quirks and idiosyncrasies.
The Characters of Stranger Things: Who Will You Be?
Now, the burning question: which of these extraordinary characters from "Stranger Things" could be your kindred spirit? Will you find yourself relishing in the enigmatic powers of Eleven, uncovering secrets like Chief Hopper, or maybe you're the resident "Dungeons & Dragons" enthusiast like Dustin? To answer this, you're about to embark on a quest to uncover your inner Hawkins resident.
Get Ready to Enter the Stranger Things Universe
But wait, before we dive into the quiz, it's worth noting that the show's characters are as diverse as they come. You've got a telekinetic girl, a fierce group of middle-school kids, a nosy journalist, a shady government operative, and even a few demogorgons thrown into the mix. So, it's not just about your hairstyle preferences or favorite snacks; it's about your personality, your instincts, and your unique set of quirks that will determine which character you truly are. It's time to channel your inner Hawkins resident, whether it's the fearless Nancy Wheeler, the science-obsessed Mr. Clarke, or even the curious and mysterious Will Byers.
How Will We Determine Your Stranger Things Twin?
Before we begin the quiz, it's essential to understand the science behind our method. No, we won't be sending you to the Department of Energy's secret lab for any experiments, don't worry. We've carefully crafted a set of questions that are designed to tap into your personality traits, quirks, and instincts. By analyzing your responses, we'll unveil which character from "Stranger Things" aligns with your unique blend of qualities.
Our quiz isn't just a lighthearted diversion; it's a scientific journey into the heart of Hawkins, Indiana. Will you emerge as the group's protector, an investigative journalist, or an enigmatic girl with supernatural abilities? Get ready for a thrilling adventure into the unknown, where every question you answer takes you one step closer to revealing your true Hawkins counterpart.
Are You Ready to Face the Demogorgon Within?
As you progress through the quiz, keep in mind that there's no right or wrong answer. It's not about battling the Demogorgon; it's about embracing the unique qualities that make you who you are. Whether you're more of a Dustin who's quick with a witty remark, a Lucas ready to take charge, or a Joyce who never gives up, it's all part of the magic of "Stranger Things."
So, grab your Eggo waffles and prepare to enter the unknown. Get ready for a supernatural journey that will leave you wondering, "Am I really one of the kids from Hawkins Middle School, or do I belong in the Hawkins Lab?" The answers are just a few clicks away.
Which Stranger Things Character Are You? Quiz
Now that you're all geared up and mentally prepared to venture into the "Stranger Things" universe, it's time to take the quiz and uncover your true character counterpart. Just hit the start button, answer the questions with all the honesty, and let our algorithm work its magic.
So, without further ado, let's embark on this nostalgic, eerie, and sometimes humorous journey to discover which "Stranger Things" character you are most like. We promise you'll be one step closer to understanding your place in the small town of Hawkins, Indiana, and who knows, you might even get a taste of some supernatural abilities along the way. Whether you're a fan of the show or a newcomer to this captivating world, this quiz is sure to be a delightful experience that brings you closer to the characters that have touched our hearts and sparked our imagination.
Now, let's not keep Eleven, Mike, and the gang waiting any longer. Hit that start button and let's get this quiz underway! The mysterious world of Hawkins, Indiana, is just a few questions away from being unveiled, and your character doppelganger awaits. It's time to unravel the enigma, face the unknown, and step into the shoes of a "Stranger Things" character. Embrace your inner Demogorgon hunter, and let's embark on a thrilling adventure into the Upside Down!